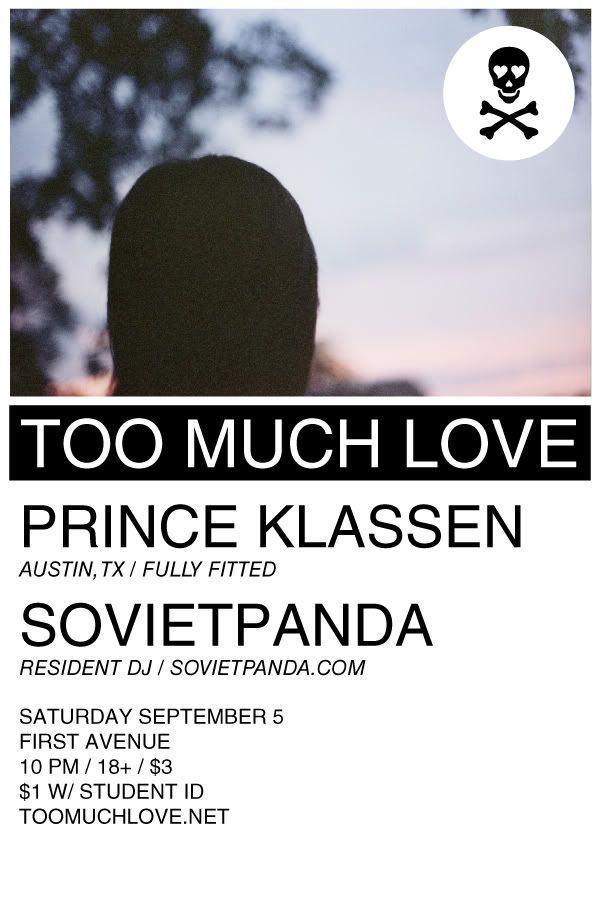 I am extremely happy to welcome
Prince Klassen
to Too Much Love this Saturday. All the way from Austin, Klassen is a 12-year DJ, experienced party-rocker, and member of the
Fully Fitted
crew (along with most of the
Spank Rock
affiliates).
For a preview of his mixing styles, check out the Prince's Mi Fresh mix CD. Or if you're DJ-inclined (or just get-on-down inclined), download a whole pack of his signature edits right here!
I asked PK a few questions, so he can let us know what he's all about. Check it:
Who is Prince Klassen?

Well that is hard to say. I thought I knew up until recently. Kind of like Faith No More's "Mid life Crisis" only it is a quarter life. All kidding aside, I am a Texas native that enjoys music, photography, and cycling.

When and where did you start DJing? Where do you play now?
I started djing 13 years ago now in the fine kitchen of my brothers house in my home town of San Antonio Texas. My current home is Austin Texas, but am trying to move out as soon as possible. I have a few weekly residencies as well as monthly ventures with my man Dj Orion.

Describe your sound in five words or less.
HOLY F*CK THATS MY JAM
Can you tell us a little about Fully Fitted and any projects you have coming up?
Fully Fitted
is
Devlin, Darko
,
XXXchange
,
Amanda Blank
,
Pase Rock
, Ghost Dad, and myself. As you know, most of those other guys are all from
Spank Rock
or affiliated and Fully Fitted pretty much started as an imprint to get their records out. We have the blog that has pretty fun features from time to time, including the "Live at Home" series, which is a s
eries of mixes that we have friends of ours make for us of music they would love to play but don't have the outlet for.
As far as Fully Fitted goes, XXXchange has a new re edit/ re mix single coming out soon with a big time disco feel to it. Amanda just put her record out on Downtown with Devlin and Darko supporting her on tour.

I am working on a new mixtape that follows up where last year's Mi Fresh left off. Still have a lot of new Disco edits I have been working on. I am also in the works with Insect Records to put out a 12 inch of raw beats. I am really looking forward to that!
What's Austin like, DJ-wise or otherwise?
Austin is an interesting place. I have only lived here for a few years now, but have seen it change a ton. I moved here as the internet was slowly shifting people's perspective on anything they ever knew, and have seen the town slowly become something I don't think it was quite ready for.
As far as the DJ scene goes here, I have my really close friends that can absolutely kill it night to night and situation to situation, but just like every other town now, EVERYONE IS A DJ. I don't want to go on the typical DJ rant you hear everywhere now, so I will leave it at that.
Five of your favorite tracks to play out lately?
Oh man, I knew this was going to be in here at some point. Let's see. This is in no order what so ever. This is for the peak hour jump off:
Baobinga - State of Ghetto Jacking (original and dave nada remix)
Rye Rye vs Adonis - Bang (Tommie Sunshine blend)Duck Sauce - aNYway (prince klassen edit)
Bamabounce - Hey Buddy
Major Lazer - Pon De Floor (prince klassen blend)
Drink of choice?

TOPO CHICO ALL DAY!!!! I don't drink alcohol, as I am straight edge, so I gots to have my Topo. I would also like to say that ZICO COCONUT WATER is sent from the (Mexican) gods as well, I know
Dave Nada
knows what Im talking about...